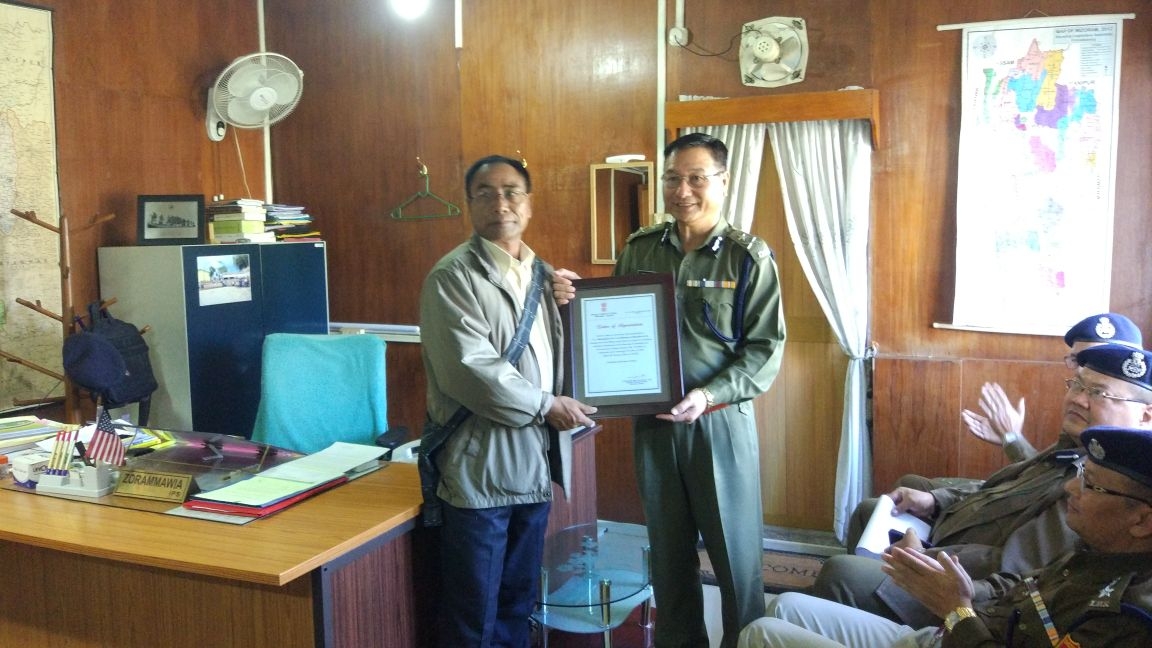 Vawiin khan Pu Zorammawia, IPS,IGP(M) kaihhruaina hnuaiah Pu Biaksanglura chawimawina hun Mizoram Police Headquarters, Khatla, Aizawl-ah hman niin he chawimawinain a ken Citation leh pawisa fai Rs.5000 chu Pu Zorammawia'n a hlan.
Pu Biaksanglura hian ni 28.1.2016 a Pu H.Vanlaltlana, Storekeeper, Chawngte rawng taka that a, a pawisa nuai 17.8 ruksaka tlanbo zuita Lalnunzauva (24) s/o Lalmuana (L) of Chawngte, Riasikah khawdaia lo man a, rang taka police te hnena thu thlentu kha a ni.
MIZORAM POLICE IN CHAWIMAWINA HLAN
Pu Zorammawia,IPS,IGP(M) chuan thu sawiin Pu Biaksanglura huaisenna leh remhriatna chu a fakawm tih sawiin, a thiltih ropui tak avangin he tualthattu hi man niin dan ang thlapa police ten investigation an kalpui theih phah a, damchhung lungin tang tura hrem a ni ta nghe nghe a ni. A thiltih hi Mizoram Police te hian kan chhuangin kan hlut tak zet ani tih entirnan he chawimawina hi hlan anih thu a sawi a. Mipuite hian dan bawhchhetute chhui leh manna kawngah tihtur pawimawh tak kan nei a, mipui ten police min thawhpui that avangin lawmawm a tih thu sawiin tun aia nasa leh zual zawka police te thawhpui turin mipuite a sawm a ni.
Pu Biaksangalura pawhin thu sawiin Police Headquarters in hetiang chawimawina hun an siamsak hi lawmawm atih thu sawiin heng beisei lawk vanga ti erawh anih loh thu a tarlang bawk.