India ram zalenna champha phak vawi 71 na chu ram chhung hmun dangte rualin Serchhip ah pawh hlawhtling taka hman a ni.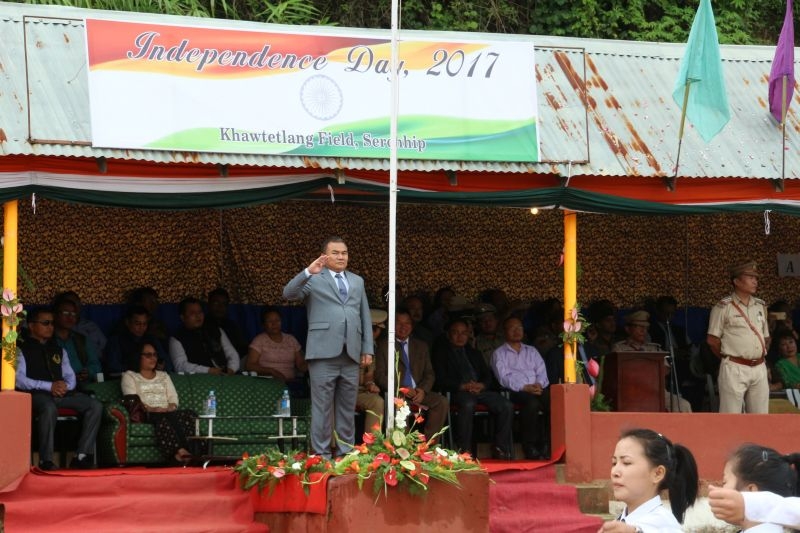 A lawmna pui ber chu Khawtetlang DC Playground ah dar 10:30 a.m ah hman niin Urban Development and Poverty Alleviation, etc., Minister Pu Zodintluanga chu khuallian ani a. Khuallian hian hnam puanzar pawt pharhin hnam puanzar chibai buktu Parade Contingent 15 te chibai bukna a chhanglet a, New India Pledge (thutiam) chhiarchhuahna a nei nghal bawk. Thusawiin khuallian chuan, hnam dangte awpbehna hnuaia zalenna kan neih theih nana hruaitu ropui Mahatma Gandhi te, Jawahar Lal Nehru te, Vallabhai Patel leh ram hruaitu dangte, sipai huaisen, ramin zalenna a hmuh theih nana nunna hlantute leh tha leh tui sengtu zawng zawngte zahna chibai bukin vawiina an thawhrah senga zalen taka hun hmang mekten kan hriatreng a pawimawh thu a sawi a. Zalenna tel lo chuan khawi ram leh hnam tan mah hmasawnna a awm theih loh thu sawiin, India ram pawhin zalenna a hmuh hnu reiloteah khawvela ram ropui berte zinga miah a inhlang kai thuai ani, a ti. Mizoram ngei pawhin kum tela hma kan sawn thu a tarlang a. Serchhip District chhunga hmasawnna, tun hnai lawka kan hmuh engemawzat Pu Zodintluanga hian a tarlang.
Serchhip District Mipuiten thlamuang taka nun an hman theih nan venhimna hna chak taka thawh reng a ni a, Police Department ten tun kum khat kalta chhunga thubuai an thehlut pawh 199 lai a tling a ni, a ti a. Infrastructure Development lamah Serchhip District in hmasawnna hmel thar a hmuh hrang hrangte tarlangin Eklavya School te, Sainik School Chhingchhip te, Thenzawl ah Girls Hostel leh Integrated AYUSH Hospital thar te, Serchhip Tourist lodge thar te, Boxing Hall te, DAO leh ATMA Building thar te, District Research Office Building thar leh India hmarchhak huap pawha zahpuiawmloh Serchhip Auditorium changkang tak mai tun hnai hawn an nih thute a tarlang a. Hengte bakah hian tuna hawn mai theih tur peih thawkhat tawh Fire &Emergency Service Building thar leh Quarters engemawzat zak mek te, District Education Complex te, Serchhip DIET building te a sawi bakah hun reilotea peih mai theih tura hna thawh mek Serchhip Sport Complex te, Nursing School te, Panchayati Resource Centre leh thil dang engemawzat a tarlang a ni.
Heng hmasawnna hnathawh hrang hrang bakah hian Minister chuan NLUP hmanga sawrkarin Serchhip District chhunga kuthnathawktu a tanpui dan sawiin tun thlengin chhungkaw 9524 hnenah NLUP hi pek an ni a, sum Rs. 7504.39 Lakh sen a ni, a ti. Sawrkar Flagship Programme thar NEDP hmalakna hnuaia ruahmanna kal mek leh hnathawh tawh te a tarlang bawk. Hengte bakah hian zirna lama hmasawnna te, hriselna lama hmasawnna te, Urban Development and Poverty Alleviation Department kaltlanga mirethei tanpuina te, Self Help Group hmalakna te, in sakna leh eizawnna kawng hrang hranga kalpui a nih dan a tarlang bawk.
Thu a sawi zawhah Minister hian Parade Contingent te hnenah lawmman semna a nei nghal a, lawmman pakhatna hi Presbyterian English School, pahnihna hi Government Serchhip H/S NCC leh pathumna hi Lalthanhawla Higher Secondary School ten an dawng ani. Lawmman sem zawh hian he huna Border Security Organisation, 199th Battalion ten ralthuam an phochhuah chu khuallian ho hian mi pawimawh ten an en ho a ni. Tin, chhun dar 12 ah VIP at Home Tea Party, DC Bungalow tualah neih chhunzawm nghal a ni a. Chawhnu dar 1:00 p.m ah Independenc Day puala buatsaih Football Tournament Final chu P&E FC leh New Serchhip FC ten an khel bawk.
WRITTEN BY K.SAITLUANGA, MIS, DIPRO SERCHHIP